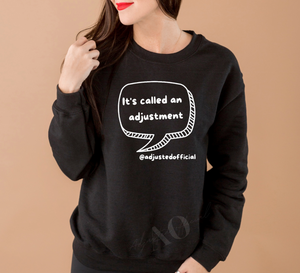 Adjusted Official
It's Called an Adjustment Crewneck BLACK
Regular price
$35.00
$0.00
Unit price
per
A comfy, cute crewneck perfect for in the office or outside on a spring day! Your staff will love this cozy sweatshirt in the office. We all know the office is kept really cold for the DCs.
This is the cutest reminder to give your amazing patients and friends so they can remember to tell their friends all about the specific adjustments you give to them every single time.
It's all about love and education so they can also spread the amazing word of chiropractic too!
Crewneck: 100% cotton
*** Due to the current situation in the world, it may take up to 7-8 days for product to be shipped .**
---
Share this Product
---